Post COVID-19 lockdown health guidelines for returning to Windsports
May 9, 2020
The SWS has worked with the District of Squamish and the Vancouver Coastal Health Authority to create a plan that allows the return to windsports in a safe manner. 
The spread of COVID-19 is unlikely during the practice of open-air sports and windsports in particular because we enjoy the windy conditions and are able to ride far from each other. But extreme care is still needed and we all have to take and show new responsibilities as a united windsport community.
The following principles were proposed by the IFKO as new kiting guidelines in a COVID-19 world. The SWS has adapted them slightly to reflect our specific sailing conditions. 
NEW KITING GUIDELINES:
SOCIAL DISTANCING - A maximum of 20 sailors will be allowed on the Spit at one time. Once on the water ride far from others to prevent crowding and potential collisions.
STAY UPDATED - Keep track of the latest information from the Authorities and comply with it. 
NON-PERMANENCE - Take just 10 minutes to set up and 10 minutes to store your gear after a kite session. Do not stay on the Spit chatting with your friends.
NO SURFACE CONTACT - Do not share your gear and keep your parked gear at least 2m from others. Check out the new land and launch plan for The Spit. 
SAFETY - Keep mask, gloves and a full disinfectant bottle inside your kite bag in case you need it and remember to use it. Never go to the Spit with any of the COVID-19 symptoms.  
EQUIPMENT - Keep your kite, board, windsurfer and other equipment well maintained. Check your valves, depower, lines, safety release as well as any other areas of your gear you have concerns about. Make sure to bring all your gear onto the Spit when it is your turn to ride so that you aren't taking more time to set up by going back and forth to your vehicle.
RIDE SAFE - Adapt your ride into a lower risk session. Use flotation vest and helmet - let's keep the hospitals free of windsport enthusiasts.  
ROTATION - If there are people waiting to get onto the Spit please limit your ride to a maximum of 60 minutes a day so that everyone can have a session without crowding the spot. After a 60 minute ride check if some riders are waiting for a turn - share it - be kind!
NO DOGS  - Normally we allow people to have their dogs at the Spit so long as they are tied up. Until further notice, no dogs will be allowed on the Spit to minimize time people are spending there and that there is more space for social distancing. 
FUN - Have fun and enjoy while our windsports are allowed. Don't do anything reckless that might impair others' ability to get out and have some fun. 
SWS Site Protocol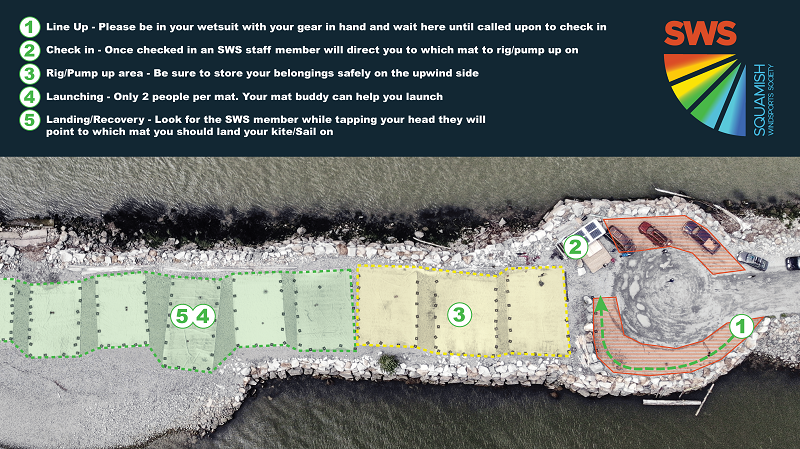 Site Rules
Members-only access at this time.
A total of no more than 50 people in the windsports area at one time, including staff, people physically on the Spit and people who launched from the Spit and are on the water.
Once the Spit has reached its maximum 50 person capacity, people arriving will be instructed to line up in the turnaround by SWS staff.
Members will be directed by staff to appropriate areas for launching and landing.
Windsport users will be directed to maintain 2m+ social distancing at all times.
Carpets used for rigging, launching and landing will be spaced accordingly to create safe social distancing. (Min 2m between carpets)
Windsport users will be required to clean up their gear and leave the windsport area upon landing their kite or windsurfer.
Kiteboarders will be required to bring all equipment to be self-sufficient, including bringing a pump.
No dogs at any time.